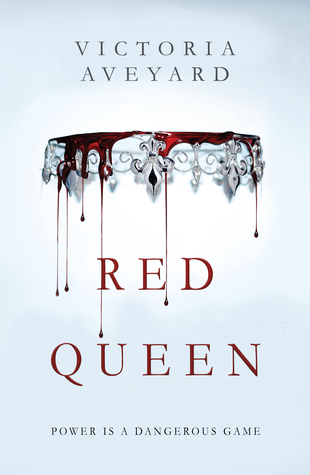 Goodreads:
The poverty stricken Reds are commoners, living under the rule of the Silvers, elite warriors with god-like powers.
To Mare Barrow, a 17-year-old Red girl from The Stilts, it looks like nothing will ever change.
Mare finds herself working in the Silver Palace, at the centre of
those she hates the most. She quickly discovers that, despite her red blood, she possesses a deadly power of her own. One that threatens to destroy Silver control.
But power is a dangerous game. And in this world divided by blood, who will win?

My Review:
[POSSIBLE SPOILERS!]
I remember scrolling through Goodreads one day and seeing the pre-released cover for this book and thinking wow. I loved the way the crown was titled upside down and the darkness of the blood. I was instantly intrigued and after reading the description, I knew I'd have to read it immediately. After finishing my dissertation, I treated myself to this book. Understandably it had gathered a lot of hype and I was wary, sometimes books have a lot of hype and fall short and I was hoping this wouldn't be that situation.
This is a typical dystopian book that follows the general rules, a group of people are disadvantaged compared to an elite group who rule and there is usually an overthrow of the corrupt society by the poor people. This very much follows that brief, but in a very effective way. The rules in 'Red Queen' are that the Elite are born with silver blood and special abilities such as telekinesis, whereas the less fortunate are born with normal red blood and live in the not so nice parts of the country. I thought this was an interesting concept as I hadn't read anything dystopian about blood differences before, it's such a subtle but great idea.
I feel like I could definitely empathize with the characters, especially Kilorn and Cal. Unfortunately I wasn't fond of the love triangle/square, as it's just so overdone that I didn't find it realistic. I also didn't like the insta-hate that she had with Evangeline. This seemed fake as they hadn't even met or known each other before they instantly dislike each other.
There are a number of twists and turns this book takes that I completely did not expect. I'm very excited to see where the story could go and I have a few predictions… (If you have some too, then let me know!) The next book will obviously follow the Scarlet Guard a lot more closely which I'm looking forward to, and I don't think certain characters will die just yet.
Overall, a very enjoyable read, I'll definitely buy the next instalment. I hope I'm not the only one who thought this could do really well as a TV series, kind of The Bachelor meets Percy Jackson? Ha. Also, TEAM CAL!
4 out of 5 stars.